Rod Phillips is jumping ship before Doug Ford sinks in June, according to Amber Bowen, Liberal Party candidate for the Ajax Member of Provincial Parliament (MPP) seat.
"It's a clear sign that the Conservatives are in total chaos, and his time is better spent on a beach somewhere," Bowen told Durham Post. "Ajax deserves better than another one of Doug Ford's 'Yes Men' as our MPP."
Last June, Liberal Amber Bowen announced her candidature for the Ajax seat. "I will fight every day for improving publicly-funded education, investing in healthcare, and fighting for good paying jobs for the people of Ajax," said Bowen.
Rod Phillips, MPP from Ajax and Minister of Long-Term Care, yesterday announced he will step down as MPP next month.
He was forced to resign from Premier Doug Ford's cabinet at the end of 2020, after Phillips decided to spend his Christmas vacation in the Caribbean island of St. Barts. The following public furore forced Phillips to resign as minister. But he held the MPP seat from Ajax, and was later appointed Minster of Long-Term Care.
"I have spoken with Premier Ford to inform him of my decision not to seek re-election and to step down next month as the MPP for Ajax. Please see my statement below in a tweet.
"I have spoken with Premier Ford and with Brian Patterson, President of the Ontario PC Party to inform them of my decision not to seek re election and step down next month as the MPP for Ajax," he said in an open statement (see below).
"This will allow the Premier to appoint a successor to continue the important work of the Ministry of Long-Term Care. It also ensures that the PC Party has the time needed to nominate a candidate in Ajax and prepare for the provincial election," he added.
Apparently, Phillips has decided to return to the private sector.
"I've always considered public service a privilege and it has been an honor to serve at the MPP for Ajax and in three cabinet portfolios. That said, my professional life has been spent in the business world and I look forward to returning to the private sector."
The minister said he was confident Premier Ford's government will be re-elected.
The 43rd Ontario general election will be held on or before June 2, 2022.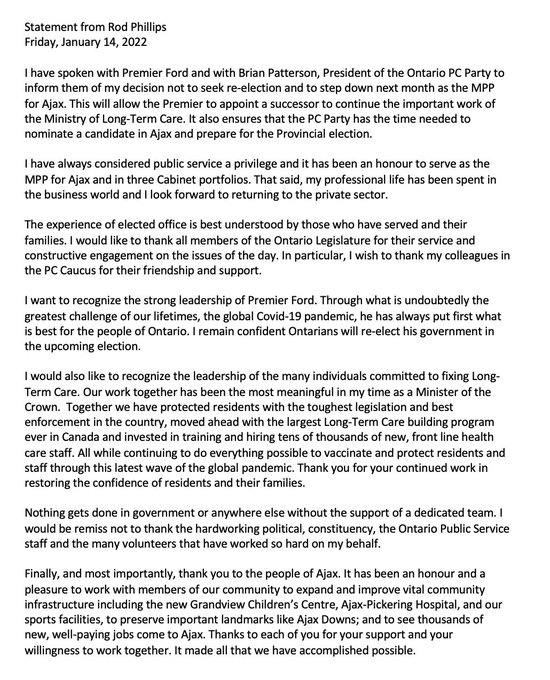 RELATED STORIES
Lindsey Park letter controversy deepens; resigns, talks of 'my successor' MPP
YOU MIGHT ALSO LIKE