DRPS Traffic Services yesterday had another bizarre excuse from a speed limit violator to relate.
A motorist was caught going at 111kmh on Whites Rad North in Pickering, which is a 80-zone.
"Driver said he was distracted because his child was irritable. The driver further stated, he just wanted to get home," said a Traffic Services tweet.
Truck driver charged for charging through red light
A dump truck apparently decided red lights were optional while driving north bound on Lake Ridge at Taunton Road in the Town of Whitby, police said.
A tweet said Taunton had a green light when he crossed the intersection. The driver was charged with red light – fail to stop and for Expired Permit and Expired Safety.
160kmh in a 60-zone
DRPS Traffic Services said although it has 60 in the number, 160kmh is not appropriate in a 60km zone (see below).
This was on Anderson in Whitby.
This rider faces several charges including stunt driving and loses the bike for 14 days + licence for 30 days.
This is unacceptable behaviour.
Aggressive driving
A driver was handed a $323 fine and four demerit points in Scugog.
DRPS Traffic Services said said we all need to arrive safely to our destination. Aggressive driving = zero tolerance.
Watch out for children
Enjoy your summer, but stay alert and watch for children, advised a tweet from DRPS East division.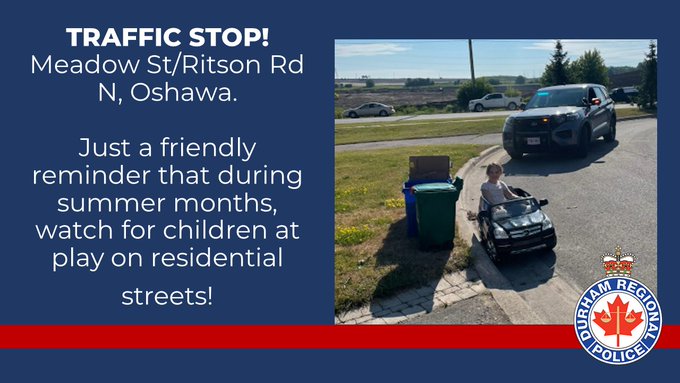 Residential area slow down
DRPS Central West Division said in areas where speed bumps have been added, like below on Whitburn Street in Whitby – it's to slow vehicles down in the interest of safety, due to an identified issue.
Please drive slowly, below posted speed limits, through residential areas such as this to help keep the community safe!
You May Want To Read
No sign of foul play after dead man found in floating vehicle