Thursday was a very busy day for Durham Regional Police Service (DRPS) officers, who had to wheel from emergency to emergency during a fast-paced day.
The events were brought to residents almost live as they happened by Constable George Tudos and Corporate Communication Specialist Kristie, during their tweet along ride.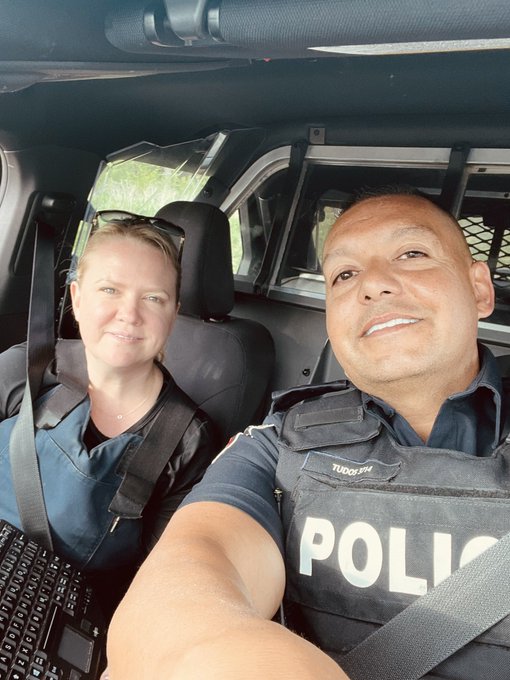 Stay tuned while Constable Tudos and Corporate Communication Specialist Kristie continue to tweet in Central East Division and across the region, it added.
Jaywalking: We are headed back to Oshawa to assist frontline officers in DRPS CE Division for reports of a gunshot. We were rerouted to a check call near Costco for a male wandering in the roadway. We spoke with the male who was waiting for the bus and agreed to stay of the roadway.
Alleged Gunshot: We have cleared from the possible gunshot call – it was fireworks. Now heading to an assist ambulance call in the area of Park Road and Stone Street.
Pickering Shooting: We are leaving the scene at Brock Road and Taunton in Pickering and heading to Oshawa to start the tweet-a-long! We may have a special 4-legged visitor later tonight! Be sure to follow!
Cyclist Killed: Our Collision Investigation Unit Investigators have arrived at the fatality scene at Wentworth Street and Simcoe Street. They will be collecting evidence and reconstructing the scene. Roadway will be closed for some time.
"Well that's a wrap. Extremely busy day today for officers here at @DRPS from a shooting incident in Pickering, Oshawa traffic fatality investigation and many other calls that kept our officers in the region busy. Thanks for following us," said the final tweet of Thursday evening.
Even as they were starting out, DRPS Central East Division tweeted that it's been a busy shift so far here in DRPS CE Division.